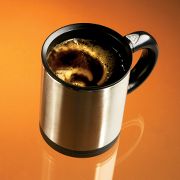 Oh, come on.  How can you pass this baby up?  It's a self-stirring coffee cup powered by 2 AAA batteries.  Push the button, and it stirs your coffee for you.  $30.
Not impressed yet?  It comes in a set of 2 mugs for $30.
Still not impressed?  It runs at 3,000RPM.  That's right.  It's approaching the speed of your laptop's lousy hard drive.  This makes it easy to mix in hard to dissolve additives to your coffee like syrups, honey, and other things.
http://www.hammacher.com/publish/73062.asp?promo=hl_kitchen
Now, go buy one for your geek girlfriend or boyfriend.